Major economic reports released this past week were the July Consumer Price Index from the Bureau of Labor Statistics, the Retail Sales Report for July and the Business Sales and Inventories report for June, both from the Census bureau, the July report on Industrial Production and Capacity Utilization from the Fed, and the July report on New Residential Construction from the Census Bureau…other reports released this week included Regional and State Employment and Unemployment for July and the July Import-Export Price Index, both from the Bureau of Labor Statistics, and the first two regional Fed manufacturing surveys for August: the Empire State Manufacturing Survey from the New York Fed, which covers New York and northern New Jersey, reported their headline general business conditions index rose from +4.3 in July to +4.8 in August, suggesting a slight pickup in the otherwise slow growth of First District manufacturing, while the Philadelphia Fed Manufacturing Survey for August, covering most of Pennsylvania, southern New Jersey, and Delaware, reported their broadest diffusion index of manufacturing conditions fell from +21.8 in July to +16.8 in August, still suggesting ongoing growth of that region's manufacturing industries, as any positive index reading would…
Consumer Prices Up 0.3% in July on Higher Housing & Fuel Costs
The consumer price index was 0.3% higher in July, as higher prices for gasoline, rent, clothing, used vehicles, and most medical services were only partially offset by lower prices for groceries …the Consumer Price Index Summary from the Bureau of Labor Statistics indicated that seasonally adjusted prices rose by 0.3% in July after rising 0.1% in June, 0.1% in May, 0.3% in April, 0.4% in March, 0.2% in February, and after they had been unchanged in January, in December and in November, and had risen 0.3% in October, 0.1% in September, 0.1% in August, and 0.2% last July…the unadjusted CPI-U index, which was set with prices of the 1982 to 1984 period equal to 100, rose from 256.143 in June to 256.571 in July, which left it statistically 1.811% higher than the 252.006 index reading of June of last year, which is reported as a 1.8% year over year increase….with flat prices for food partially offsetting higher energy prices, seasonally adjusted core prices, which exclude food and energy, also rose by 0.3% for the month, as the unadjusted core price index rose from 263.177 to 263.566, which left the core index 2.2100% ahead of its year ago reading of 257.867, which is reported as a 2.2% year over year increase, up from the 2.1% year over year increase shown in June…
The volatile seasonally adjusted energy price index rose 1.3% in July, after falling 2.3% in June, 0.6% in May, rising 2.9% in April, rising 3.5% in March, rising 0.4% in February, falling 3.1% in January, falling 2.6% in December, falling 2.8% in November, rising by 2.1% in October, and falling by 1.0% in September, and hence is still 2.0% lower than in June a year ago…the price index for energy commodities was 2.4% higher in July, while the index for energy services was unchanged, after falling by 0.7% in June….the energy commodity index was up 2.4% due to a 2.5% increase in the price of gasoline, the largest component, and a 0.6% increase in the index for fuel oil, while prices for other energy commodities, including propane, kerosene, and firewood, were on average unchanged…within energy services, the price index for utility gas service fell 1.8% after falling 0.3% in June and is now 2.9% lower than it was a year ago, while the electricity price index rose 0.6% after falling 0.8% in June….energy commodities are still 3.4% lower than their year ago levels, with gasoline prices averaging 3.3% lower than they were a year ago, while the energy services price index is 0.2% lower than last July, as electricity prices are now 0.5% higher than a year ago…
The seasonally adjusted food price index was unchanged in July, after being unchanged in June, rising 0.3% in May, falling 0.1% in April, but after rising 0.3% in March, 0.4% in February, 0.2% in January, 0.3% in December, 0.2% in November, being unchanged in October, rising 0.1% in September, 0.1% in August, and 0.1% last July, as the price index for food purchased for use at home fell 0.1% in June, while the index for food bought to eat away from home was 0.2% higher, as prices at fast food outlets and prices at full service restaurants both rose 0.2% while food at employee sites and schools were on average 0.8% higher…
In the food at home categories, the price index for cereals and bakery products was 0.3% higher as average bread prices rose 0.7% and cookie prices rose 1.3%, while the price index for fresh biscuits, rolls, & muffins fell 0.5%…at the same time, the price index for the meats, poultry, fish, and eggs group was 0.1% higher, as the beef and veal price index rose 0.5% and ham prices rose 1.8%, while poultry prices averaged 1.1% lower…meanwhile, the seasonally adjusted index for dairy products was 0.3% lower, as prices for both fresh whole milk and cheese fell 0.2%…on the other hand, the fruits and vegetables index was 0.3% higher on a 0.6% increase in the price index for fresh fruits and a 1.3% increase in the price index for fresh vegetables, led by a 9.5% jump in prices for lettuce….however, the beverages index was 0.4% lower, as roast coffee prices fell 1.4% and carbonated drink prices were 0.5% lower….lastly, the index for the 'other foods at home' category was 0.7% lower, as prices for salad dressing fell 2.3%, peanut butter prices fell 1.6%, and the snack food index fell 1.5%….the itemized list for price changes of over 100 separate food items is included at the beginning of Table 2 for this release, which also gives us a line item breakdown for prices of more than 200 CPI items overall…since last July, only prices for lettuce, which have now risen by 14.2% year over year, and prices for eggs, which are down 14.1% from a year ago, are only line items in the 'food at home' category with price changes of more than 10% over the past year…
Among the seasonally adjusted core components of the CPI, which rose by 0.3% in July after rising by 0.3% in June, 0.1% in May, 0.1% in April, 0.1% in March, 0.1% in February, and by 0.2% for the five months prior to that, after rising by 0.1% in August, and by 0.2% last July, the composite price index of all goods less food and energy goods was 0.2% higher, while the more heavily weighted composite for all services less energy services was 0.3% higher….among the goods components, which will be used by the Bureau of Economic Analysis to adjust June retail sales for inflation in national accounts data, the price index for household furnishings and supplies was up 0.3%, as the price index for window and floor coverings rose 1.5%, the index for furniture and bedding rose 0.7%, and the price index for outdoor equipment and supplies rose 1.1%, while the price index for major appliances was 1.0% lower….at the same time, the apparel price index was 0.4% higher on a 4.7% increase in the price index for men's suits, sport coats, and outerwear, a 2.4% increase in the index for women's suits and separates, and a 2.8% increase in the price index for boys and girls footwear… in addition, the price index for transportation commodities other than fuel was 0.2% higher even as prices for new cars fell 0.2%, because prices for used cars and trucks rose 0.9%, and the price index for motor oil, coolant, and fluids rose 3.9%…meanwhile, prices for medical care commodities also averaged 0.2% higher as prescription drugs prices rose 0.4%….on the other hand, the recreational commodities index was 0.4% lower on a 1.0% decrease in TV prices, a 1.4% drop in the price index for sporting goods, and a 1.7% decrease in the price index for toys, games, hobbies and playground equipment….however, the education and communication commodities index was 1.1% higher on a 2.8% increase in the price index for computers, peripherals, and smart home assistant devices…lastly, a separate price index for alcoholic beverages was 0.4% higher, while the price index for 'other goods' rose 0.6% on a 1.0% increase in the price index for tobacco and smoking products…
Within core services, the price index for shelter rose 0.3% on a 0.3% increase in rents, a 0.2% increase in homeowner's equivalent rent, and a 1.0% increase in lodging away from home at hotels and motels, while the shelter sub-index for water, sewers and trash collection rose 0.2%, and household operation costs were on average 0.6% higher on a 2.0% increase in moving expenses….at the same time, the price index for medical care services was 0.5% higher, as outpatient hospital services rose 0.7% and health insurance rose 1.7%…meanwhile, the transportation services price index was 0.3% higher as vehicle repairs rose 0.4% and airline fares rose 2.3%….the recreation services price index was 0.2% higher as veterinarian services rose 0.6% and the index for club membership for shopping clubs, fraternal organizations, or participant sports fees rose 1.0%….the index for education and communication services was also 0.2% higher as the index for internet services and electronic information providers services rose 0.6% and technical and business school tuition and fees also rose 0.6%….lastly, the index for other personal services was up 0.5% as the price index for apparel services other than laundry and dry cleaning rose 1.0% and tax preparation services were 0.6% higher…among core line items, prices for televisions, which are now 20.2% cheaper than a year ago, and the price index for telephone hardware, calculators, and other consumer information items, which is down by 15.8% since last July, have both seen prices drop by more than 10% over the past year, while the cost of health insurance, which is now up by 15.9% over the past year, the price index for infants' furniture, which has increased 11.6% year over year, and intercity busfare, which has increased by 12.8% since last July, are the only line items to have increased by a double digit magnitude over that span….
July Retail Sales Rose 0.7% After May Sales were Revised Higher
Seasonally adjusted retail sales were 0.7% higher in July after retail sales for May were revised higher….the Advance Retail Sales Report for July (pdf) from the Census Bureau estimated that our seasonally adjusted retail and food services sales totaled $523.5 billion during the month, which was 0.7 percent (± 0.5 percent) higher than June's revised sales of $519.9 billion and 3.4 percent (±0.7 percent) above the adjusted sales in July of last year…June's seasonally adjusted sales were revised from the $519.885 billion reported last month to $519.860 billion, which is considered statistically unchanged, while May sales were revised from $517.682 billion to $518.131 billion, which reduced the June increase from 0.4% to 0.3%….estimated unadjusted sales, extrapolated from a survey of a small sampling of retailers, indicated sales actually rose 2.7%, from $518,179 million in June to $532,348 million in July, while they were up 4.8% from the $508,010 million of sales in July a year ago…combined, the revisions to May and June indicate that 2nd quarter sales were roughly $0.42 billion higher than previously reported, which would add about $1.7 billion to the BEA's calculation of 2nd quarter personal consumption expenditures at an annual rate before the inflation adjustment, which should be enough to boost 2nd quarter GDP by 0.01 percentage points when the 2nd estimate is published at the end of the month…
Included below we have the table of the monthly and yearly percentage changes in retail sales by business type taken from the July Census pdf….the first double column below gives us the seasonally adjusted percentage change in sales for each type of retail business from June to July in the first sub-column, and then the year over year percentage change for those businesses since last July in the 2nd column; the second pair of columns gives us the revision of last month's June advance monthly estimates (now called "preliminary") as revised in this report, likewise for each business type, with the May to June change under "May 2019 (r)evised" and the revised June 2018 to June 2019 percentage change in the last column shown…for your reference, our copy of the table of last month's advance June sale estimates, before this month's revision, is here….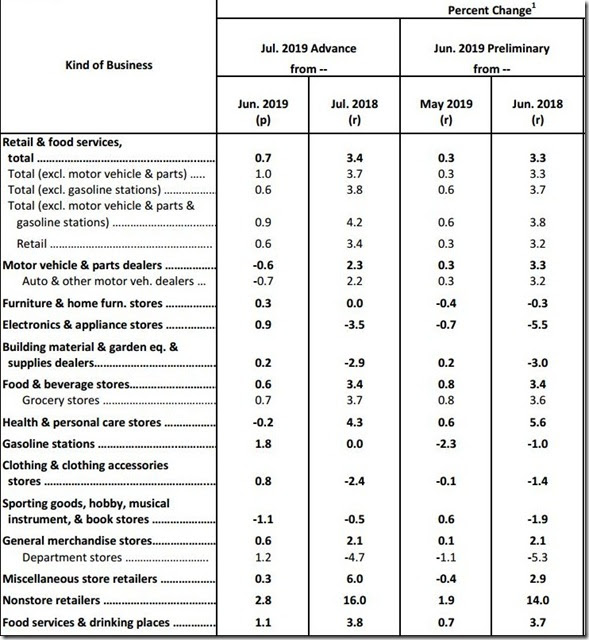 To compute July's real personal consumption of goods data for national accounts from this July retail sales report, the BEA will use the corresponding price changes from the July consumer price index, which we reviewed earlier….to estimate what they will find, we'll first pull out the usually volatile sales of gasoline from the other totals…from the third line on the above table, we can see that July retail sales excluding the 1.8% jump in sales at gas stations were up by 0.6%….then, subtracting the figures representing the 0.6% increase in grocery & beverage sales and the 1.1% increase in food services sales from that total, we find that core retail sales were up by somewhat more than 0.5% for the month…since the July CPI report showed that the the composite price index of all goods less food and energy goods was 0.2% higher in July, we can thus figure that real retail sales excluding food and energy, or real core PCE, will show an increase of about 0.3% for the month…however, the actual adjustment in national accounts for each of the types of sales shown above will vary by the change in the related price index…for instance, while nominal sales at motor vehicle & parts dealers were down 0.6%, the July price index for transportation commodities other than fuel was 0.2% higher, which would suggest that real sales at auto & parts dealers were 0.8% lower once price increases are taken into account… similarly, while nominal sales at clothing stores were 0.8% higher in July, the apparel price index was 0.4% higher, which means that real sales of clothing only rose around 0.4%…
In addition to figuring those core retail sales, to make a complete estimate of real July PCE, we'll need to adjust food and energy retail sales for their price changes separately, just as the BEA will do…the July CPI report showed that the food price index was unchanged, as the price index for food purchased for use at home fell 0.1% while the index for food bought away from home was 0.2% higher…thus, while nominal sales at food and beverage stores were 0.6% higher, real sales of food and beverages would have been around 0.7% higher in light of the 0.1% decrease in prices…meanwhile, the 1.1% increase in nominal sales at bars and restaurants, once adjusted for 0.2% higher prices, suggests that real sales at bars and restaurants only rose around 0.9% during the month…at the same time, while sales at gas stations were up 1.8%, there was concurrently a 2.5% increase in the price of gasoline during the month, which would suggest that real sales of gasoline were actually on the order of 0.7% lower, with a caveat that gasoline stations sell more than gasoline, and we haven't accounted for those other sales…by averaging those estimated real sales figures with a sales appropriate weighting, and excluding food services, we'd estimate that the income and outlays report for July will show that real personal consumption of goods rose by around 0.3% in July, after rising by a revised 0.3% in June, rising by a revised 0.6% in May and by 0.6% in April, after rising 1.9% in March, falling by 0.9% in February and rising by 1.7% in January…at the same time, the 0.9% increase in real sales at bars and restaurants should have a notable positive impact on June's real personal consumption of services…
Industrial Production Down 0.2% in July After Prior Months Revised Lower
The Fed's G17 release on Industrial production and Capacity Utilization for July indicated that industrial production fell by 0.2% in July after rising by a revised 0.2% in both May and in June…however, after revisions, industrial production is now up just 0.5% from a year ago, as compared to last month's 1.3% year over year increase…the industrial production index, with the benchmark now set for average 2012 production to equal to 100.0, fell to 109.2 in July from 109.4 in June, which was revised from the 109.6 reported for June a month ago…at the same time, the May reading for the IP index was revised down from 109.6 to 109.2, and the April reading for the index was revised down from 109.2 to 109.0….
The manufacturing index, which accounts for more than 77% of the total IP index, decreased by 0.4% to 104.7 in July, after June's manufacturing index was revised from 105.2 to 105.1, May's manufacturing index was revised from 104.8 to 104.5, and April's manufacturing index was revised from 104.6 to 104.3, while the March and the February manufacturing indexes remained unrevised at 105.2 and 105.3 respectively…hence, the manufacturing index is down 0.5% from a year ago, having fallen 1.2% since December….meanwhile, the mining index, which includes oil and gas well drilling, fell from 133.6 in June to 131.2 in July, which was still 5.5% higher than it was a year ago….finally, the utility index, which often fluctuates due to above or below normal temperatures, rose 3.1 to 104.9 in July, after the June utility index was revised from 101.9 to 101.7 and the May index was revised from 105.7 to 105.2…with an equivalently hot July in 2018, the utility index is only 0.3% above its year ago reading of 104.6..
This report also provides capacity utilization figures, which are expressed as the percentage of our plant and equipment that was in use during the month, and which indicated that seasonally adjusted capacity utilization for total industry fell from 77.8 in June to 77.5 in July, after capacity utilization for June was revised from 77.9% to 77.8%, and after capacity utilization for April and May was revised lower as well….capacity utilization by NAICS durable goods production facilities fell from 75.9 in June to 75.6 in July, while capacity utilization for non-durables producers fell from 76.6% to 76.1% at the same time….meanwhile, capacity utilization for the mining sector fell to 89.1% in July from 91.2% in June, which was originally reported as 91.5%, while utilities were operating at 76.6% of capacity during July, up from their 74.5% of capacity during June, a figure that was originally reported at 74.6%…for more details on capacity utilization by type of manufacturer, see Table 7: Capacity Utilization: Manufacturing, Mining, and Utilities, which shows the historical capacity utilization figures for a dozen types of durable goods manufacturers, 8 classifications of non-durable manufacturers, mining, utilities, and capacity utilization for a handful of other special categories….
New Housing Starts Reported Lower in July; Building Permits Higher
The July report on New Residential Construction (pdf) from the Census Bureau estimated that the widely watched count of new housing units started in July was at a seasonally adjusted annual rate of 1,191,000, which was 4.0 percent (±8.0 percent)* below the revised June estimated annual rate of 1,241,000 housing units started, but was 0.6 percent (±8.2 percent)* above last July's pace of 1,184,000 housing starts annually….the asterisks indicate that the Census does not have sufficient data to determine whether housing starts actually rose or fell over the past month or even over the past year, with the figure in parenthesis the most likely range of the change indicated; in other words, July's housing starts could have been up by 4.0% or down by as much as 12.0% from those of June, with even larger revisions eventually possible…in this report, the annual rate for June housing starts was revised down from the 1,253,000 reported last month to 1,241,000, while May starts, which were first reported at a 1,269,000 unit annual rate, were revised from last month's initial revised figure of 1,265,000 annually to an annual rate of 1,264,000 with this report….
Those annual rates of housing starts reported here were extrapolated from a survey of a small percentage of US building permit offices visited by Census field agents, which estimated that 113,700 housing units were started in July, down from the 116,600 units started in June…of those housing units started in July, an estimated 84,800 were single family homes and 27,800 were units in structures with more than 5 units, up from the revised 83,400 single family starts in June, but down from the 32,300 units started in structures with more than 5 units in June…
As we've pointed out previously, the monthly data on new building permits, with a smaller margin of error, are probably a better monthly indicator of new housing construction trends than the volatile and often revised housing starts data…in July, Census estimated new building permits were being issued at a seasonally adjusted rate of 1,336,000 housing units per year, which was 8.4 percent (±1.1 percent) above the revised June annual rate of 1,232,000 permits, and was 1.5 percent (±1.4 percent) above the rate of building permit issuance in July a year earlier…the annual rate for housing permits issued in June was revised from 1,220,000 to 1,232,000….
Again, these annual estimates for new permits reported here were extrapolated from the unadjusted estimates collected by canvassing census agents, which showed permits for 120,600 housing units were issued in July, up from the revised estimate of 111,000 new permits issued in June…the July permits included 79,000 permits for single family homes, up from 75,100 single family permits in June, and 37,400 permits for housing units in apartment buildings with 5 or more units, up from 31,900 such multifamily permits a month earlier… for graphs and commentary on this report, see the following two posts by Bill McBride at Calculated Risk: Housing Starts decline to 1.191 Million Annual Rate in July and Comments on July Housing Starts.
June Business Sales Up 0.1%, Business Inventories Up 0.1%, Less than Estimated by the BEA
Following the release of the July retail sales report, the Census Bureau released the composite Manufacturing and Trade Inventories and Sales report for June(pdf), which incorporates the revised June retail data from that July retail report and the earlier published wholesale and factory data to give us a complete picture of the business contribution to the economy for that month….according to the Census Bureau, total manufacturer's and trade sales were estimated to be valued at a seasonally adjusted $1,460.1 billion in June, up 0.1 percent (±0.2%)* from May revised sales, and up 1.3 percent (±0.4 percent) from June sales of a year earlier…note that total May sales were revised from the originally reported $1,461.4 billion to $1,458.2 billion, now down 0.1% from April, rather than up 0.2% as had previously been reported….manufacturer's adjusted sales were up 0.4% to $506,153 million in June, and retail trade sales, which exclude restaurant & bar sales from the revised June retail sales reported earlier, were up 0.3% to $455,392 million, while wholesale sales fell 0.3% to $498,539 million…
Meanwhile, total manufacturer's and trade inventories, a major component of GDP, were estimated to be valued at a seasonally adjusted $2,035.7 billion at the end of June, virtually unchanged (±0.1 percent)* from May, but 5.2 percent (±0.4 percent) higher than in June a year earlier…the value of end of May inventories was revised down from the $2,036.4 billion reported last month to $2,035.8 billion…seasonally adjusted inventories of manufacturers were estimated to be valued at $695,585 million at the end of June, 0.2% higher than those at the end of May, inventories of retailers were valued at $661,444 million, 0.3% less than in May, while inventories of wholesalers were estimated to be valued at $678,669 million at the end of June, statistically unchanged from May…
The Key source data and assumptions that accompanied the release of the advance estimate of 2nd quarter GDP indicates that the BEA had assumed that total seasonally adjusted June manufacturing and trade inventories (on a Census basis) would increase by $3.1 billion from the previously published May figures…since this report shows that total June inventories increased by $0.1 billion while May inventories were revised down by $0.6 billion at the same time, that means that the advance estimate of 2nd quarter GDP overestimated end of June inventories by $3.6 billion, or at an annual rate of $14.4…assuming there is no major change relating to the inflation adjustment on those inventories, a revision to reflect these new figures would be enough to subtract about 0.28 percentage points from 2nd quarter GDP, when the 2nd estimate is released at the end of August…
(the above is the synopsis that accompanied my regular sunday morning links emailing, which in turn was mostly selected from my weekly blog post on the global glass onion…if you'd be interested in receiving my weekly emailing of selected links, most picked from the aforementioned GGO posts, contact me…)