oil prices have been moving up over the past few weeks and added another 10% to their prior gains this week, as traders are apparently looking past news of record inventories that would normally send prices lower, to a time when supplies are reduced enough to merit prices closer to the marginal cost of production, which we have certainly been below over the past few months…as we saw last week, major frackers have finally thrown in the towel on completing wells, and that's sending the signal to market makers that prices had fallen far enough to dent the glut…prices for US crude, which closed the prior week at $32.78 a barrel, moved up every day this week until Thursday, when they briefly fell back 9 cents to close at $34.57, and then rallied again on Friday to close the week at $35.92 a barrel, the highest front month closing price for oil since the 5th of January….also contributing to the upward pressure on prices were repeated comments from Russian officials and OPEC that a global agreement to cap oil output is close…Russian Energy Minister Alexander Novak reportedly said countries producing 73% of the world's oil had tentatively agreed to such a freeze…that they'd be freezing their output at a level that's been around 2 million more barrels per day than consumers have been using has, at least for now, escaped market participants…we'll include below a chart of oil prices over the last 3 months, so you can visually see what this recent price rally has looked like…
the above graph shows the daily closing contract price per barrel for April delivery of the US benchmark oil, West Texas Intermediate (WTI), as traded on the New York Mercantile Exchange over the last 3 months…it's fairly obvious that oil prices are up over the last 3 weeks, but since the spread between contract prices for each month has become so extreme of late, it's not even apparent from this chart how low prices crashed during that early February selloff….our records show that oil for March delivery traded as low at a 13 year low of $26.02 a barrel on Thursday, February 11th, before the unwinding of a $600 million triple short forced covered buying and drove oil prices up to close that week at $29.44 a barrel…since the April oil contract was not involving in that trading, charts such as the above show no sign of that price dive…still, when the media refers to historical oil prices, they'll be referring to whichever month's contract was active traded at the time, and hence in reporting on this week's oil prices, the Wall Street Journal says Friday's prices were up 37% from the low near $26 a barrel in February..
a different dynamic is influencing natural gas prices, however, as they matched their 17 year low of last week early and kept on falling until Thursday, when they closed at a record low of 1.639 per mmBTU, before they recovered a bit on Friday to close the week at $1.666 per mmBTU, down from last week's closing price of $1.791 per mmBTU….the problem with natural gas is that domestic natural gas inventories are at seasonally record levels due to the combination of overproduction and a mild winter, and now the now the extended forecast is for well above normal temperatures in the Midwest and Northeast for the next two weeks, meaning even less consumption…the Weekly Natural Gas Storage Report released Thursday showed 2,536 billion cubic feet of working gas remained in underground storage in the lower 48 states, 45.6% more than the 1,742 billion cubic feet we had in storage last year at this time, and weather prospects are now that we might get through March without any normal winter consumption…that could mean that regional gas producers will be heading into summer with much of their storage capacity nearly full, with inadequate space to put what they produce in the summer months…the effect that such a prospect has had on natural gas prices is clear in the graph below, which shows prices for April delivery of natural gas at Henry Hub, a pipeline connection in Louisiana, on which other US gas prices are based…to put $1.66 gas in perspective, the long term price graph we featured last week showed that natural gas prices ranged between $6 and $14 per mmBTU during the 5 years before fracking for gas became the norm..
The Latest Oil Stats from the EIA
even though output of crude from US wells slipped again this week, our imports of crude jumped to their highest level in 2 years, and as a result this week saw the second largest jump in crude oil inventories in 15 years, as our inventories of crude hit yet another record….this week's Energy Information Administration data showed our field production of crude oil fell by another 25,000 barrels per day, from 9,102,000 barrels per day during the week ending February 19th to 9,077,000 barrels per day during the week ending February 26th…that was 2.6% below the 9,324,000 barrels per day we produced during the fourth week of February last year, the largest year over year drop since August 2012, and the lowest our oil production has been since November 2014…nonetheless, it's still holding up, considering the drought of drilling and well completion…
at the same time, however, our imports of crude oil jumped by 490,000 barrels per day from the previous week to their highest level in two years, as we imported oil at the rate of 8,292,000 barrels per day during the week ending February 26th, up from the average of 7,802,000 barrels per day we were importing during the week ending February 19th, and 12.5% more than the 7,368,000 barrels per day we were importing during the last week of February last year…our imports of crude have now averaged 7.9 million barrels per day over the first two months of 2016, 7.5% higher than our imports during the first two months of 2015…although we've often mentioned the contango trade, wherein an oil trader will buy an imported cargo of oil and pay to have it stored while simultaneously entering into a contract to sell that oil at a higher price at some future date, as a factor in our higher crude imports this past year, an element that has come into play more recently is the spread between the prices of US crude, which closed at $33.07 a barrel on February 26th, and Brent crude, which closed at $35.10 a barrel the same day…apparently US Gulf Coast refineries would rather import cheap crude from overseas than pay shipping from the central US fields, such as the Bakken or Niobrara, when the prices are that close…so the lifting of the oil export ban has had the perverse effect of pushing US oil prices closer to the international price, and thus creating incentives for more imports…
US refineries did pick up a bit of the slack this week, as they processed 15,852,000 barrels per day during the week ending February 26th, 167,000 barrels per day more than the 15,685,000 barrels per day they processed during the week ending February 19th, as the US refinery utilization rate rose to 88.3%, from 87.3% during the week of the 19th…that was 4.9% more oil than they processed during the last week of February last year, when US refineries were operating at 86.6% of capacity…in fact, even though it's seemed like our refineries have slowed down in the face of the glut in products, they're really running at a pace somewhat above what they'd normally be running at at this time of year, which we can see from the chart below…
the above graph comes from Jack Kemp, oil analyst at Reuters, and as the heading says, it shows the amount of crude processed by US refineries at different times of year over the past ten years…the light blue shading shows the range of refinery throughput for each calendar week over the previous 10 years, and the blue dashed line shows the average amount of oil that US refineries use in any given calendar week…then, tracked in yellow, is the amount of oil US refineries consumed each week last year, obviously at the upper bound of what they had consumed previously, meaning their throughput each week last year had to be at least as high as the previous record high….crude processing this year to date is then shown in red, and it's pretty obvious that this year's refinery throughput has now been well above normal every week this year…
even with this week's higher throughput, however, US gasoline production fell from it's near record high of 10,009,000 barrels per day during week ending February 19th to 9,335,000 barrels per day during week ending February 26th; that was even 2.0% below the 9,522,000 barrels per day of gasoline production we saw during the same week last year…however, our output of distillate fuels (ie, diesel fuel and heat oil) saw a corresponding increase, rising by 363,000 barrels per day to 4,801,000 barrels per day during week ending the 26th, which was also up by 3.3% from our distillates production of 4,645,000 barrels per day during the same week a year ago….with lower gasoline production, it wasn't a surprise to see our end of the week supply of gasoline in storage fall for the 2nd week in a row, after 14 consecutive increases, as our gasoline stockpiles fell by 1,468,000 barrels from 256,457,000 barrels as of February 19th to 254,989,000 barrels as of this week's report…however, those 254,989,000 barrels of gasoline were still 6.2% more gasoline than the 240,060,000 barrels we had stored on February 27th last year….and lest you think that the 2 week draw down of gasoline supplies might mean that we're in some way running short, we'll include a graph showing the recent history of gasoline inventories as tracked by the EIA…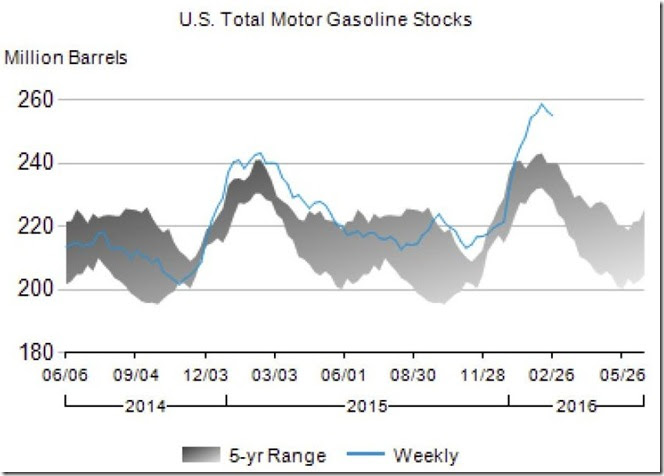 in the graph above, sourced from the weekly Petroleum Status Report (62 pp pdf), the blue line shows the recent track of US gasoline inventories over the period from June 6th 2014 to February 26th, 2016, while the grey shaded area represents the range of US gasoline inventories as reported weekly by the EIA over the prior 5 years for any given time of year, essentially showing us the normal range of US gasoline supplies as they fluctuate from season to season….notice that gasoline supplies are normally built up in early winter, just as they were this year, and typically start to fall during the late winter, as they are now doing, when refineries begin the process of switching over to their summer blends…then they run down throughout the summer driving season and finally bottom in September, when the cycle repeats…it's also clear from that picture that our gasoline supplies first pushed into record territory at the end of 2014, where they stayed at seasonal highs until May of 2015, and that this year's records are now taking out last year's records by some margin…
now, while our gasoline supplies were slipping as they normally do during the last week of February, our inventories of distillate fuels, which also normally fall during the winter as stored heat oil is consumed, rose instead by 2,882,000 barrels to 163,597,000 barrels, up from 160,715,000 barrels as of February 19th…that puts our supplies of distillate fuels 33.0% higher than the 122,976,000 barrels we had stored at the end of February last year, and now distillate our fuel inventories are also well above the upper limit of the average range for this time of year – as are our inventories of residual fuel oil and our inventories of propane propylene…only our inventories of jet fuel aren't at seasonal record highs, but after 424,000 barrels of jet fuel were added to our supplies this week, the 42,430,000 barrels of jet fuel we have stored now is less than 100,000 short of the recent February high for jet fuel stocks set in 2012…
so, with only a modest increase in refining against the large jump in imports, we ended the week with even more excess crude in the country than the record level that we had last week, as our total inventories of crude oil in storage, not counting what's in the government's Strategic Petroleum Reserve, rose by nearly 10.4 million barrels, increasing from 507,607,000 barrels on February 19th to 517,981,000 barrels on February 26th, the largest increase in our oil inventories in 11 months and 2nd largest increase in history…that left our stockpiles of crude oil 16.6% higher than the record for February set a year ago, and perhaps even more telling, 42.2% higher than our surplus oil stocks were on February 28th two years ago, before the oil glut really started building up….once again, so we can see what this looks like compared to recent history, we'll include a graph showing our recent oil stocks as compared to the prior 5 years…
in this 2 year graph, copied from "This Week in Petroleum" from the EIA, the blue line shows the recent track of US oil inventories over the period from June 2014 to February 26th, 2016, while the grey shaded area represents the range of US oil inventories as reported weekly by the EIA over the prior 5 years for any given time of year, thus showing us the normal range of our oil inventories as they fluctuate from season to season….we can see that crude oil inventories typically fall through the spring and summer, when refineries are running flat out, much as they did this year, but we're now into the mid-winter period when oil refineries have cut back on operations, and when oil inventories typically rise, at least till mid April…note that the large grey wedge on the right now includes the oil inventory records that we were setting last year at this time (ie, it includes the image of the early 2015 blue line) which we are now exceeding by more than 15% each week…reports this week indicate that due to lack of regular storage space, oil traders have already taken to storing surplus crude in empty rail cars…between the end of February and the end of April last year we added 45 million barrels to our oil stockpiles…the question thus becomes can we find or build adequate storage facilities for the oil that we're importing and producing, or will it come down to filling every tank and swimming pool in the world with oil before fundamentals kick in, as BP CEO Robert Dudley warned would happen three weeks ago..
This Week's Rig Count
the past week saw another modest decrease in the number of rotary rigs actively drilling for oil and gas in the US that took the Baker Hughes rig count down to within a single rig of a record low… Baker Hughes reported that the total count of active rigs fell by 13 to 489 as of March 4th, as oil rigs fell by 8 to 392, the first time the oil rig count fell below 400 rigs in 7 years, while working natural gas rigs fell by 5 rigs to 97, another record low…this week's count was down from the 922 oil rigs and 268 gas drilling rigs that were deployed on March 5th of last year, and well off the records of 1609 working oil rigs set on October 10, 2014 and the recent gas rig record of 1,606 that was set on August 29th, 2008…
three of the rigs that were pulled out this week had been drilling in the Gulf of Mexico last week, so the offshore rig count is now down to 24, and down from 49 in the Gulf and a total of 51 offshore a year ago…a net of 8 horizontal rigs were stacked this week, cutting the count of horizontal drilling rigs down to 389, which was also down from the 895 horizontal rigs that were in use the same week last year, and down from the recent high of 1372 horizontal rigs that were drilling on November 21st of 2014…..5 directional rigs were also removed, dropping the directional rig count down to 42, which was down from the 120 directional rigs that were in use on March 5th of last year…meanwhile the vertical rig count remained unchanged this week at 58, which was still down from the 177 vertical rigs that were drilling a year ago…
of the major shale basins, the large Permian basin of west Texas and eastern New Mexico saw 6 rigs pulled out, leaving 158, which was down from 333 rigs working the Permian last year at this time…3 more rigs were also stacked in the Williston of North Dakota, where 33 rigs remained, down from 108 a year ago, and down from the 198 rigs that were working the Bakken in October of 2014….in addition, the DJ-Niobrara chalk of the Rockies front range, the Eagle Ford of south Texas, the Marcellus of the northern Appalachians, and the Mississippian shale of southwest Kansas and bordering states each had one rig pulled out; that left the Niobrara with 15 rigs, down from 34 last year at this time, left the Eagle Ford with 46, down from 149 a year earlier, left the Marcellus with 28 rigs, down from 62 rigs a year earlier, and left the Mississippian with 7 rigs, down from the 44 rigs deployed there last March 5th…single rigs were added in three basins this week; the Cana Woodford of Oklahoma, which now has 37 rigs active, same count as a year ago, the Granite Wash of the Oklahoma-Texas panhandle region, where they're back up to 10 but still down from 32 a year ago, and Haynesville of Louisiana, where they now have 15 rigs deployed, down from 38 a year ago….
the state count tables show that Texas got rid of 4 rigs, leaving 227, down from 538 a year ago…March 4th also found North Dakota with 33 rigs, 3 fewer rigs than last week and 72 fewer than a year ago, and found Oklahoma also down 3 rigs to 70, down from the 139 rigs working the Sooner state last year at this time…in addition, there were two rigs stacked in Colorado, which now has 17 rig still drilling, down from 39 a year ago…there were also single rig reductions in Louisiana, New Mexico, and West Virginia; those left Louisiana with 46 rigs, down from 100 at the same time last year, left New Mexico with 17 rigs, down from 61 a year earlier, and left West Virginia with 12 rigs, down from 17 rigs a year earlier….two states had rigs added; Alaska was up by 1 rigs to 12, bringing them back to the same number as a year ago, and Nebraskans also saw 1 rig added and now have 2, which is down from the 3 rigs that were drilling in Nebraska the same week a year ago…